Surfing Dog's Talents Are Honored In The Most Touching Way
Surf Dog Ricochet had a very busy September! She was re-united with Patrick Ivison at the first ever International Surfing Association (ISA) World Adaptive Surfing Championship surf clinic/expression session. And, earlier in the month, she was inducted into the Helen Woodward Surf Dog Surf-a-Thon Hall of Fame, and the International Surfing Museum's Surf Dog Walk of Fame.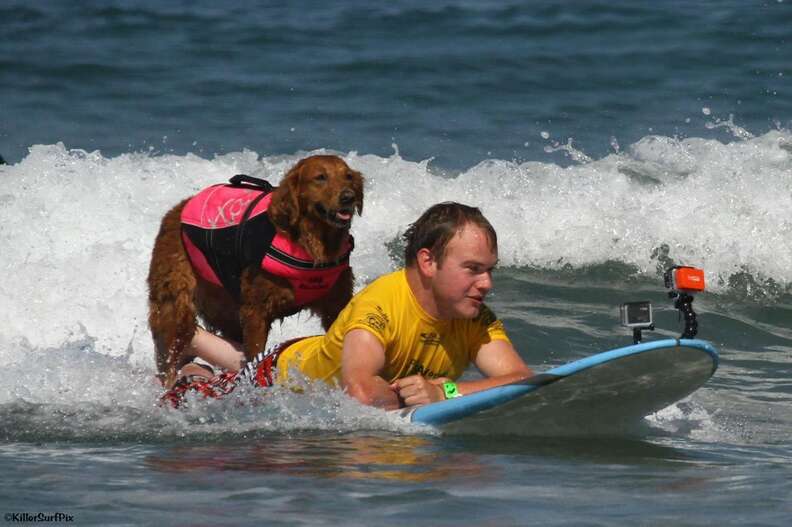 The ISA World Adaptive Surfing Championship was presented by the Challenged Athletes Foundation, Hurley, Stance and the City of San Diego. It served as the preeminent platform for physically challenged surfers to display their talents in competition.
The Championship was a four-day celebration that took place in San Diego. It included visually impaired surfers, amputees and those with spinal cord injuries. Ricochet represented Team USA, but that didn't stop her from mingling with all the other teams!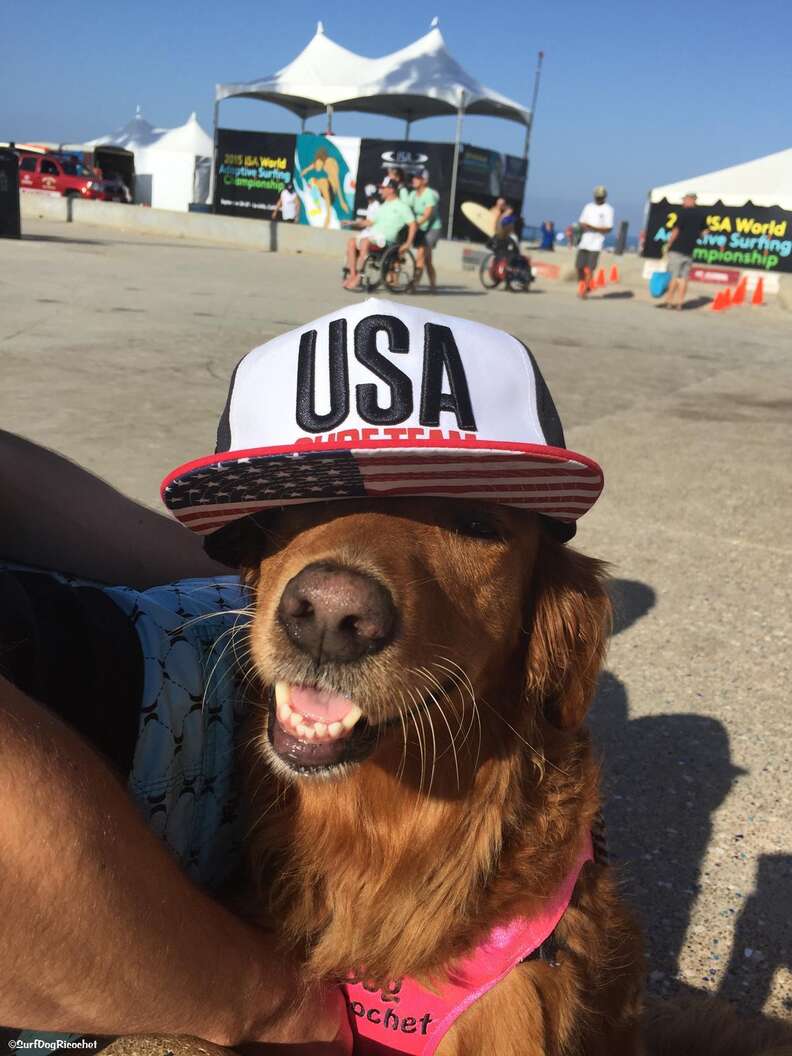 Ricochet was given one of the most memorable gifts of her life: an invitation to participate in the expression session with Patrick.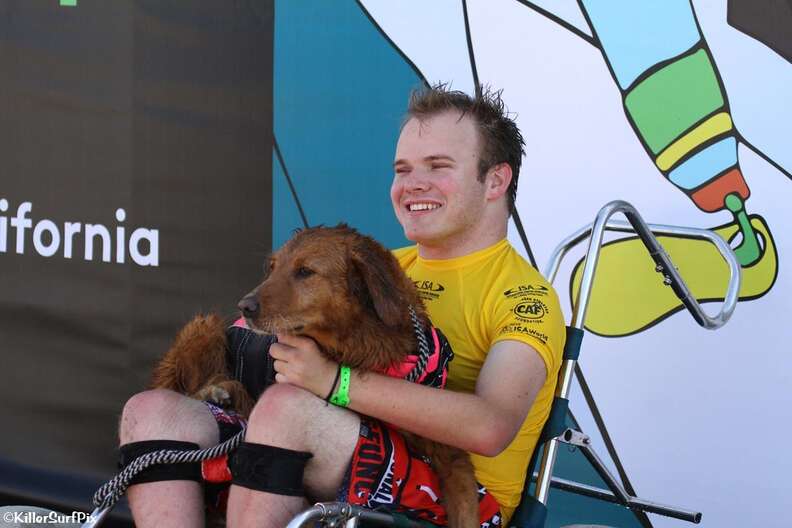 Six years ago, Ricochet jumped on a surfboard with Patrick, who suffered a C4-5 spinal cord injury after being run over by a car as a child. Patrick is where her whole life purpose began.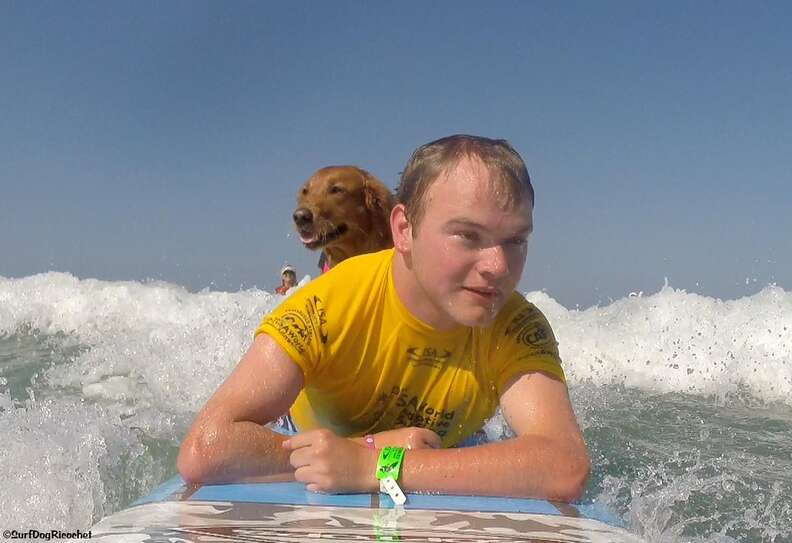 Since then, Ricochet has been the canine face of adaptive surfing, balancing boards, and balancing lives.
As fate would have it, the day of the expression session was the anniversary of Patrick's accident. What a way to celebrate his life!
It was a privilege and honor for Ricochet to participate in this surfing championship of adaptive surfers from around the globe.
More than 65 athletes from 18 countries competed. Being in the ocean and surrounded by all the adaptive surfers was like being in heaven to Ricochet. She was home!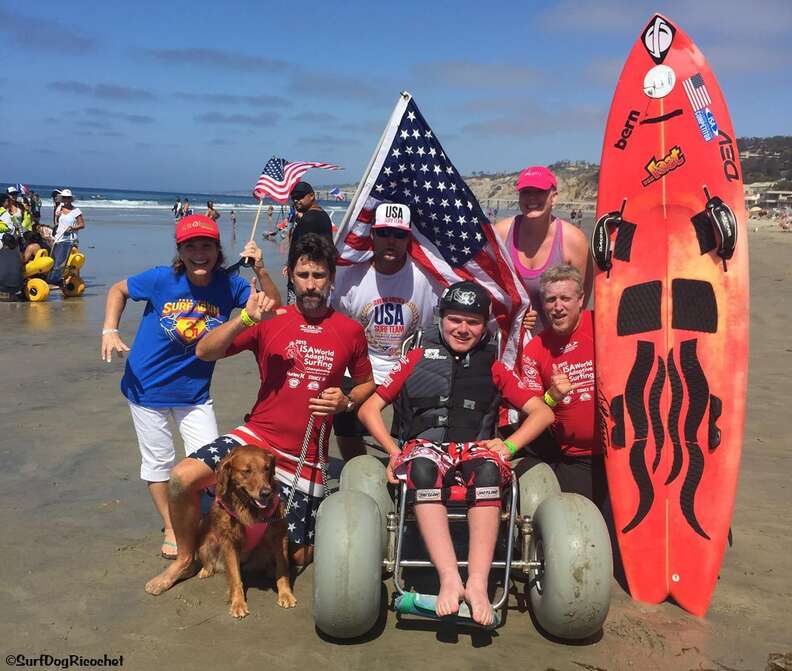 He took home fifth place worldwide!
There was a lot of cheering and barking going on for Patrick and Team USA!
Ricochet's friend Mike Coots from Team Hawaii lost his leg to a shark attack. When describing the event, he said:
"It was a raw, humbling, joyous time that left us blown away by the power of the human spirit and how strong the mind can be in overcoming all odds."
Christiaan Otter Bailey from Team USA was one of the first adaptive surfers Ricochet met six years ago. He took home a silver medal!
Jesse Billauer is the founder of Life Rolls On and invited Ricochet to be an Ambassador a couple years ago. She had a lot to bark about when he took home the gold!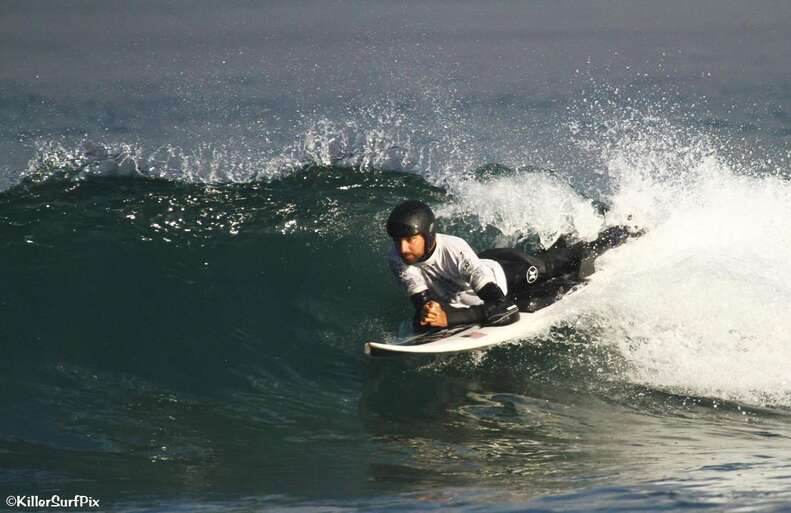 This event was truly magical and full of inspiration. Adaptive surfing was taken to a whole new level as history was made!
We are grateful to the president of the ISA, Fernando Aguerre for the honor of Ricochet's participation and attendance. She has been surfing with, and an ambassador for adaptive surfers for over six years and we're truly privileged to have experienced this history making event.
(Click here for more information, photos and videos of the ISA World Adaptive Surfing Championship.)
And, be sure to watch the video below: 15 seconds of pure stoke!
She was also inducted into two surf dog halls of fame!
Earlier this month, Ricochet was honored for her surfing and fundraising efforts by the Helen Woodward Animal Center.
For more than six years, Ricochet brought droves of fans to the sport of dog surfing through her Facebook page, Instagram and Twitter. She consistently placed in the top three spots in surf dog contests, and raised more than $25,000 for homeless animals.
In recognition of her accomplishments, she was inducted into the Surf Dog Surf-a-Thon Hall of Fame.
Then, this past Saturday, she was inducted into the Huntington Beach International Surfing Museum's Surf Dog Walk of Fame inspired by Surf City Surf Dog.
She received the Legacy Award, and our dear friend, Lexi accepted on behalf of Ricochet's entire team.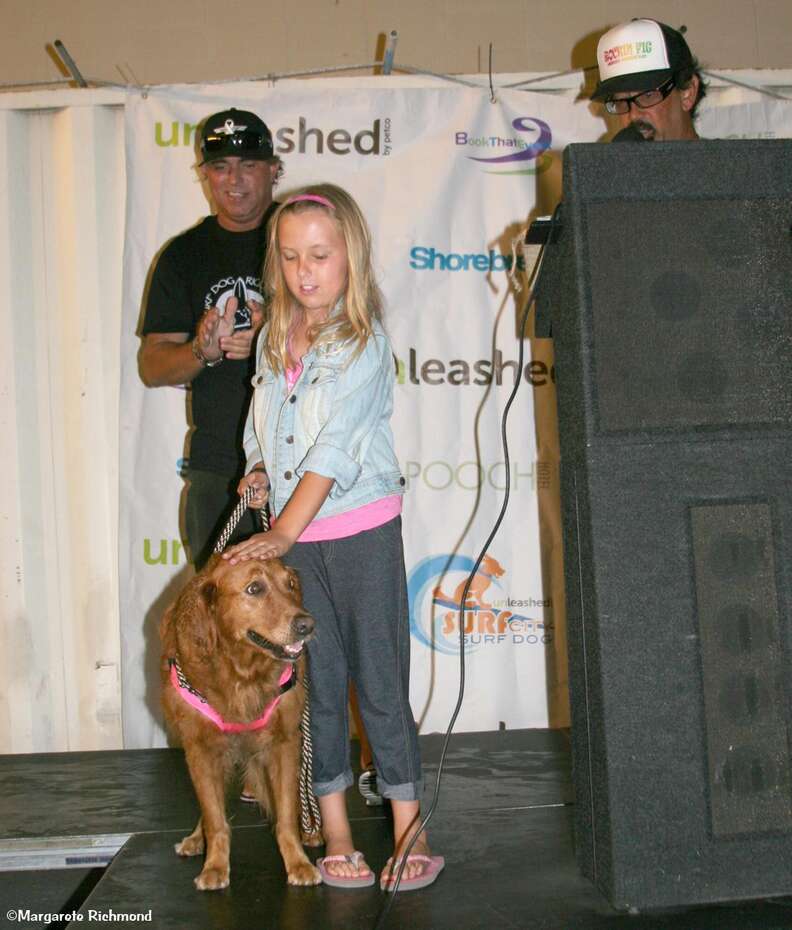 Holding her leash, as well as our hearts was her water handler Dave. He has been the impetus of Ricochet's surfing both competitively and adaptively.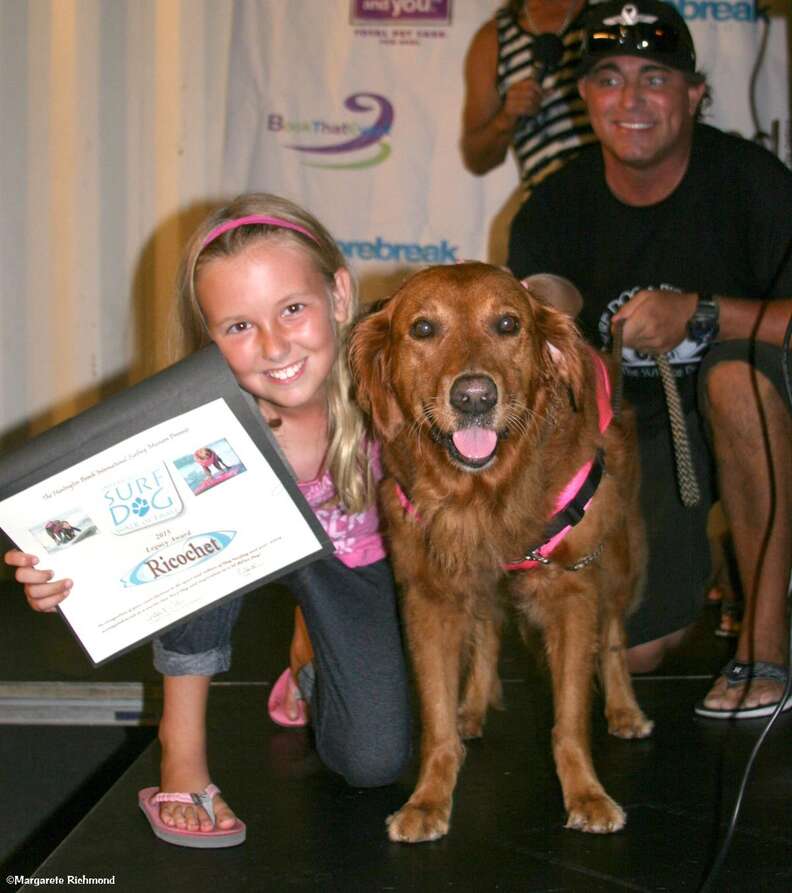 Her front paws were pressed into a block of cement by Dave and our beloved friend, Jen. The block will be added to the sidewalk outside the museum.
Both of these honors come as she exits the competitive surf dog world to focus on her expanding role as SURFice Dog©. We would like to thank all of Ricochet's supporters because she wouldn't have achieved any of this if it weren't for you!