They call her Subway Sally.
Every night, a stray pup arrives outside the doors of a chain restaurant and waits patiently — her eyes full of hope.
She knows that in a matter of moments, one of the kind Subway staffers will pull on a pair of gloves and make a special meal just for her, free of charge. The adorable pup has never missed a visit for the entire year, earning her the nickname "Subway Sally."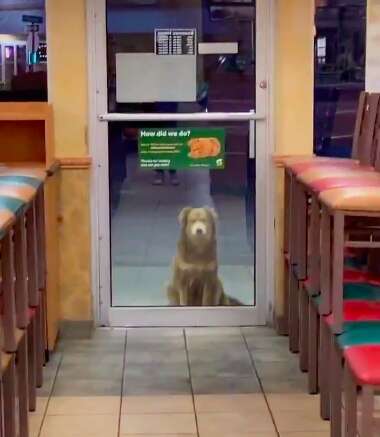 A week ago, TikTok user Kxnuko, who works at Sally's favorite restaurant, posted a video of the dog's sweet routine. The short clip has since gone viral with nearly 3 million views on the app alone.
But even though Sally knows she'll get a meal and fresh water at the sandwich shop, she has no qualms about trying out the other restaurants in the area. "If we're too late to give her food, she'll go across the street to Taco Bell," Kxnuko says in his video.
Not to be dramatic but I would die for Subway Sally pic.twitter.com/T7ufMbYEfR

— 𝗮𝗻𝗼𝘁𝗵𝗲𝗿 L (@wydsimp) January 6, 2020
Some commenters have noted that Subway Sally looks too clean to be a stray — suggesting that she has a home, but sneaks out for treats on the side. In a follow-up video, Kxnuko denies these theories, explaining that the community looks after her. Sally's glossy coat is thanks to a woman who runs the nearby flower shop, who will occasionally give the pup baths.
But Sally's life on the streets of Portales, New Mexico, is still a difficult one. Since Kxnuko started working at that Subway location, he says he has witnessed Sally have four litters.
While rescues have been attempted in the past, Sally always seems to find her way back to the restaurant.
"Multiple people have tried taking her but she never wants to go," Kxnuko wrote in a comment on one of his videos. "I suspect she has a regular place to sleep and possibly care for her puppies."
Kxnuko adds that Sally isn't the only stray dog in need of help in his town — but he and his coworkers will continue to care for her as long as she needs it. "[She] is part of the community," he said in a comment.