Rescue Bunny Is So In Love With His New Dogs
His name is Bob and he's SMITTEN ❤️
Bob the bunny and Grace the dog didn't fall in love at first sniff.
Grace's initial reaction to her big-eared new roommate was more along the lines of wanting to eat him.
Luckily, their mom is New York City-based animal trainer Lydia DesRoche, who trains animals for Broadway and has a history of ushering pets of varying species into happy coexistence.
"It's always like, 'Oh my God, this is happening,'" DesRoche tells The Dodo.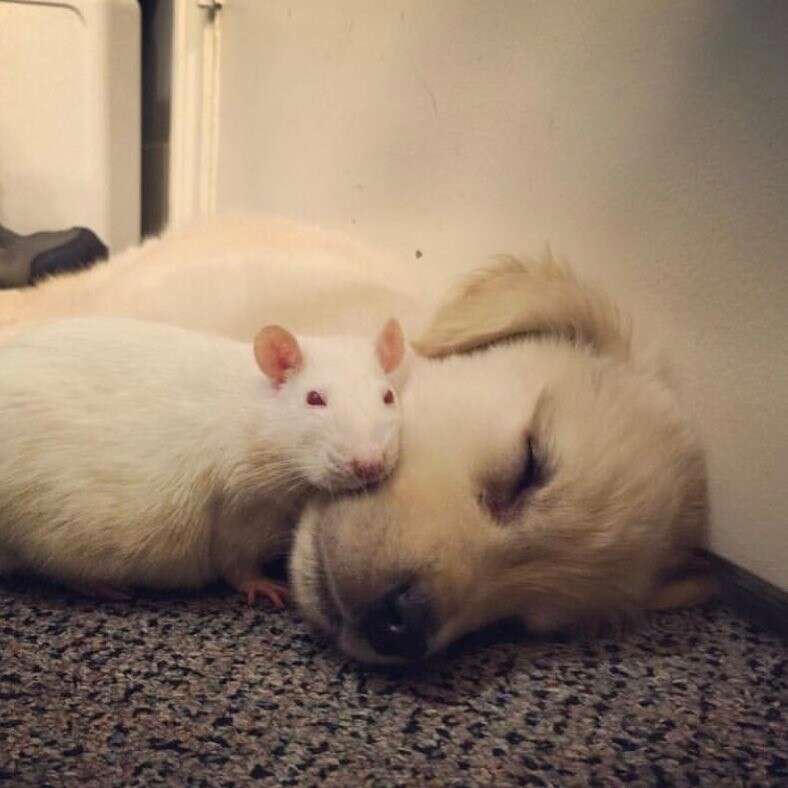 Grace, who appeared with Matthew Broderick and Nathan Lane in "It's Only A Play," has lived with DesRoche for about three years. She had previously belonged to a client who thought the dog would be happier with Lydia.
Bob is a relatively new addition to the menagerie.
Bob was found in late April, hopping around a friend's farm animal sanctuary in upstate New York. He'd gotten into a scrape with some other rabbits, then escaped his enclosure.
DesRoche helped wrangle the bunny with the aid of a carrot.
Then she brought the rabbit to the vet, where he was neutered, and DesRoche figured she'd take care of him while he healed.
Bob has such an extroverted, charming personality, DesRoche soon became smitten.
"I don't know how I got a bunny," she says. "Bob was supposed to go back to the sanctuary."
Grace might have been thinking much the same thing — at least at first.
DesRoche has spent a couple of years teaching Grace to be calm and friendly around her pet rats — who are also veteran stage performers. This involves a lot of rewarding Grace for behaving calmly when they're around. (DesRoche is extremely careful about these interactions. The moment anyone isn't having fun, she steps in.)
But Grace was "initially very reactive to Bob the bunny," DesRoche says.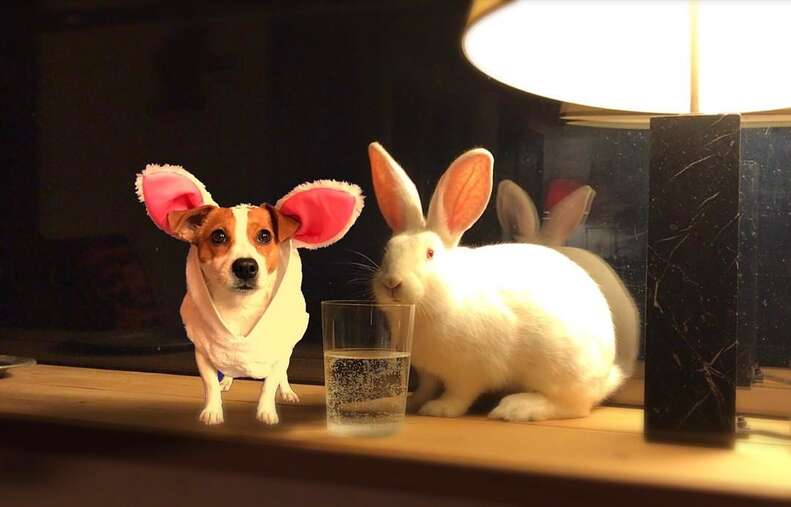 Others took to Bob more quickly — like Petunia the rat, who felt confident enough to steal some of Bob's food right out of his mouth.
One day, a couple of weeks after he arrived, Bob got loose in the apartment by accident.
But instead of going after the bunny, Grace quietly went to the spot where she gets treats for ignoring the rats.
DesRoche rewarded her with a mountain of food for her very good behavior.
"We've been building from there," DesRoche says.
Watching the two very closely, DesRoche was thrilled and surprised to see Grace begin to offer Bob signals she wanted to play.
"I couldn't believe my eyes," she says.
Soon Grace and Bob were hanging out in bed, snacking together, even mimicking each other — Bob learning from Grace that it's fun to roll over for belly rubs, Grace, in turn, discovering the joy of vegetables.
"Grace wouldn't touch fennel if you gave it to her, but if I toss a piece to Bob, she will snatch it and run around to get him to chase her," DesRoche says.
"Grace used to hang out with me, but now that Bob is around, sometimes I will be sitting in the living room alone while Grace and Bob cuddle on my bed."
It was all just as sweet and delightful as you could imagine — until Jake the schnauzer came along.
Jake belongs to a client of DesRoche. His owner travels a lot, so Jake stays in DesRoche's apartment often enough that she calls him part of the family.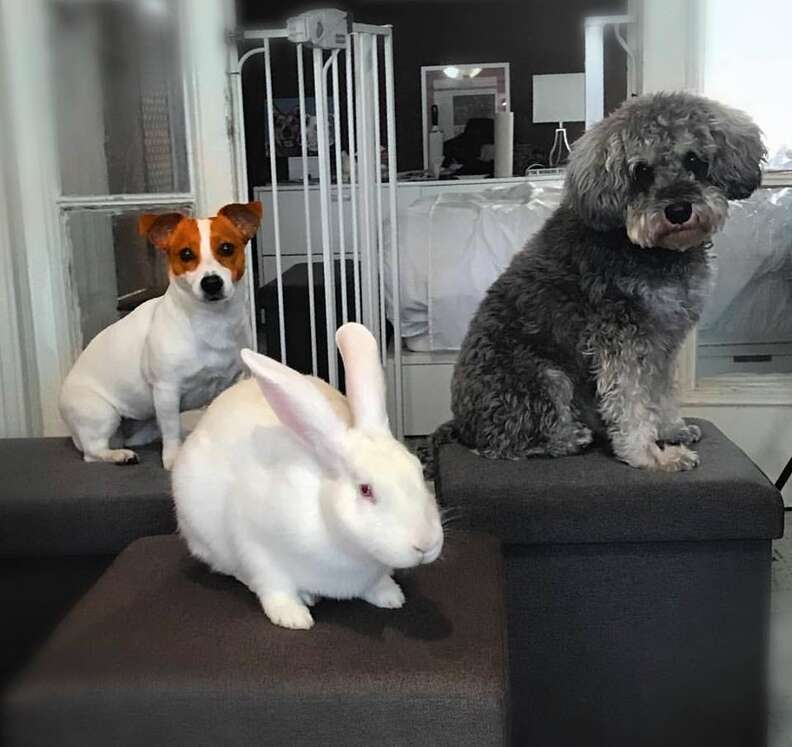 During Jake's latest visit, he caught Bob's attention. Bob began following Jake around, sniffing him, bumping the dog with his nose, and appearing a little "obsessed," as DesRoche puts it.
"Bob was like, 'Oh hey,'" she says.
Jake went from wanting to jump on Bob, to being more or less indifferent, to being curious and wanting to play.
So now, Grace loves Bob, and Bob more or less only has eyes for Jake. (And vegetables.)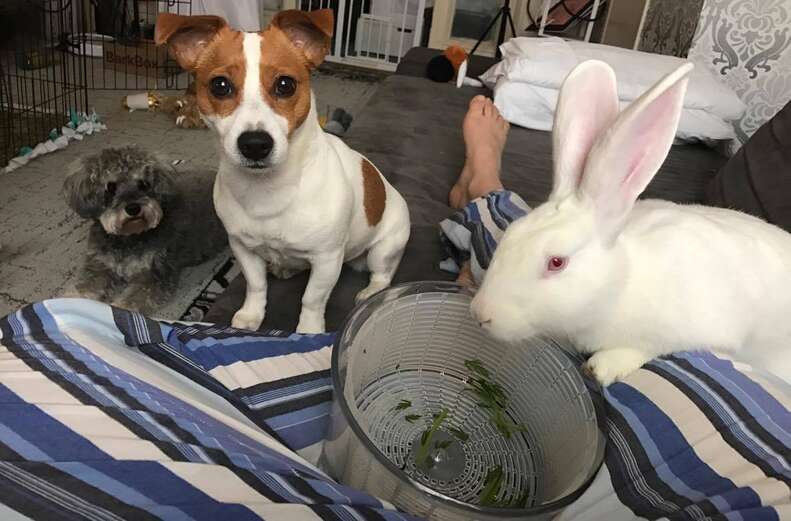 But don't worry, Grace. Eventually, Jake will go home.