A picture's worth a thousand tear-jerking words.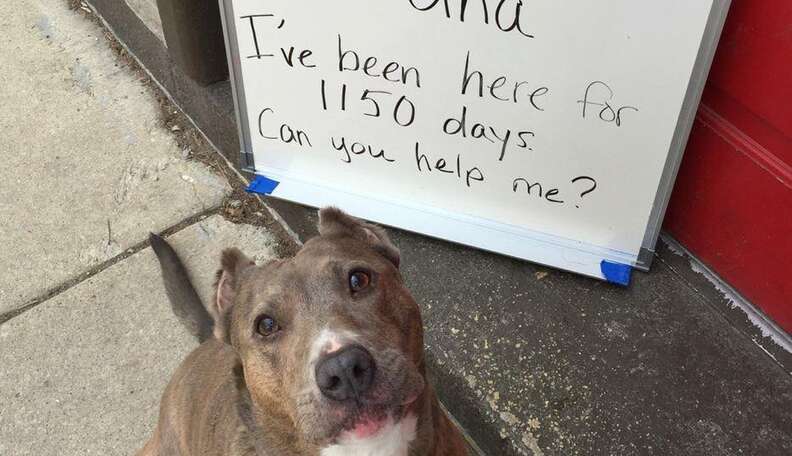 Una's 6 years old, and she's spent 1150 days, or about half her life, in shelters. "That alone breaks my heart," Mark Lukas, a volunteer at the Chicago-based organization Alive Rescue, told The Dodo. "And the longer this goes on, we eclipse that halfway point."
Back in December 2012, Una's previous owners surrendered her to the Chicago Animal Care and Control Center. Prejudices against pit bulls often make it hard for shelters to find a home for them, so shortly after her arrival, Una was scheduled to be euthanized.
Luckily, a group of volunteers from Alive Rescue picked up the young dog.
She showed several signs of abuse: Her ears had been cut, most likely by her previous owner with some household item such as kitchen shears. Medical examiners found she had some brain damage from previous blows to the head. She was also overly possessive of things like food, water and toys due to her abuse, according to Lukas.
The abuse Una suffered taught her not to let her guard down around humans. "That was evident by her trust issues when we first met," Lukas explained.
Una's also deaf, so Lukas has been working with her one on one since last April, using hand signals as part of a long-term physical exercise program and basic obedience training.
More importantly, he's brought Una out of her shell.
But there's one group of humans she trusts and loves more than any other.
"Una loves children," Lukas said. "Whenever we walk through the park, she always stops at the gate to watch the children lovingly."
One day, when there were no children in the park's playground, Lukas trained Una to climb up the stairs. Her reward? Riding down the slide.
After her first ride, she instantly ran up the stairs to go for a second and third round.
When Lukas and Una are done with their training for the day, she's excited to return to the shelter, says Lukas. To her, it's her home.
As great as it is to see Una happy at the shelter, Lukas knows that Una needs the comfort and security of her own home and family to care for her. If he didn't already have four dogs running around the house, he'd take her home himself.
You or somebody you know could provide that loving home for Una and make sure she doesn't spend another 1,000 days in the shelter.
If you're willing to commit to showering Una with love and play, consider applying to adopt Una.
UnaAlive Rescue/Mark Lukas