"It's just something we're passionate about and want to make a difference any way we can."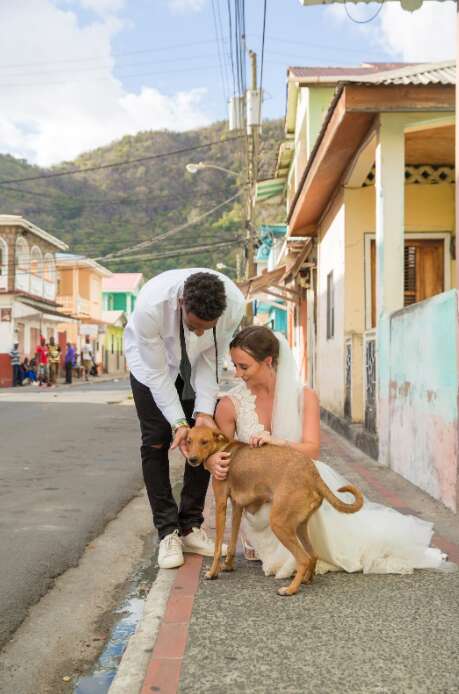 Tennessee Titans cornerback Logan Ryan and his fiancée Ashley Bragg couldn't wait to get married on the Caribbean island of St. Lucia. The one downside to this plan was being separated from their beloved dogs, Nala and Leonardo.
"We knew a destination wedding was best for us, but I did struggle with the fact that our dogs couldn't be involved," Bragg tells The Dodo.
Outside of missing their dogs, the wedding in early April was perfect.
Ryan and Bragg's young daughter, Avery, and eight guests joined them at a resort so stunningly beautiful Bragg says it "almost looked fake."
The next day, the happy newlyweds put on their wedding clothes again and headed into the town of Soufrière for a photo shoot. There, they met a friendly stray dog who took a shining to them.
"Naturally, we decided to say hi, pet her, give her love," says Bragg.
The dog ate up the attention — she even tried to play tug-of-war with Bragg's veil. And Ryan and Bragg, in turn, couldn't help but feel that meeting this dog was some kind of a sign that they should turn their attention to helping dogs on this island.
"Dog rescue is with us wherever we go," says Ryan. "It's just something we're passionate about and want to make a difference in any way we can."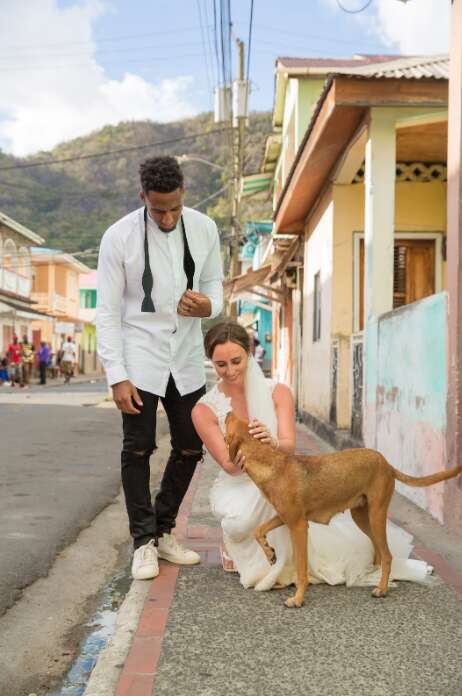 Ryan and Bragg are long-standing dog advocates. Together, they founded Ryan's Monthly Rescue — a social media campaign that aims to help shelter dogs, especially pit bulls, find homes. (It runs in the family. Avery is an animal lover, too, whose eyes light up at the sight of a "doggie.")
So the couple asked about animal welfare organizations on the island, and were pointed toward a group called HelpAWS.
HelpAWS is a foster-based animal rescue group that was founded in 2013. In addition to finding homes for the island's many stray cats and dogs, the organization also conducts spay/neuter and vaccination clinics for the island's animals — strays, as well as those whose owners don't have a lot of money.
"We have fixed over 1,200 animals since starting these clinics," Charlene Penney, HelpAWS's founder, says. "They have been vital in reducing the stray animal population, and we're happy to say that people are beginning to see a positive difference in their communities as a result."
Penney was surprised and delighted to hear from an American professional football player and his new wife, who'd taken an interest in HelpAWS. She was even more happily shocked to learn Ryan and Bragg wanted to help her organization by asking their guests to make donations in lieu of wedding presents.
"Many people asked us beforehand about gifts. We just told them we were all set and suggested they donate to their local shelter or rescue instead," says Bragg. "Most people wanted to donate to an organization that would be more meaningful to us. So once we connected with Charlene, we gave them HelpAWS."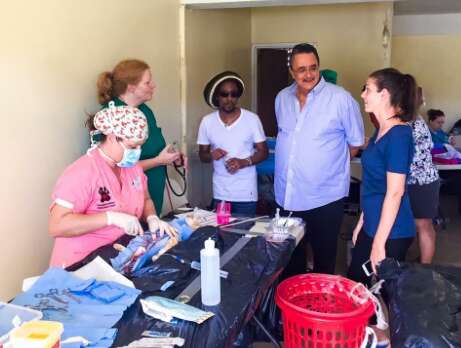 Thanks to the wedding donations, HelpAWS has been able to expand the number of animals who'll be spayed and neutered — and get the dog who inspired Ryan and Bragg's interest off the street and into a rescue.
That dog has been named Logan. Like many of the cats and dogs HelpAWS takes in, she is suffering from serious health problems that will be time-consuming and expensive to treat. Thankfully, that won't be a problem. And now this dog has a good life ahead, just waiting for her.
"Once Logan recovers, she will also be fixed and will be up for adoption," Penney says. "There's no better feeling in the world than saving an animal off the street who you know without a shadow of a doubt would have died had you not intervened. You get to watch that animal find a loving home and literally go from the brink of death to sleeping under the covers in their new owner's bed."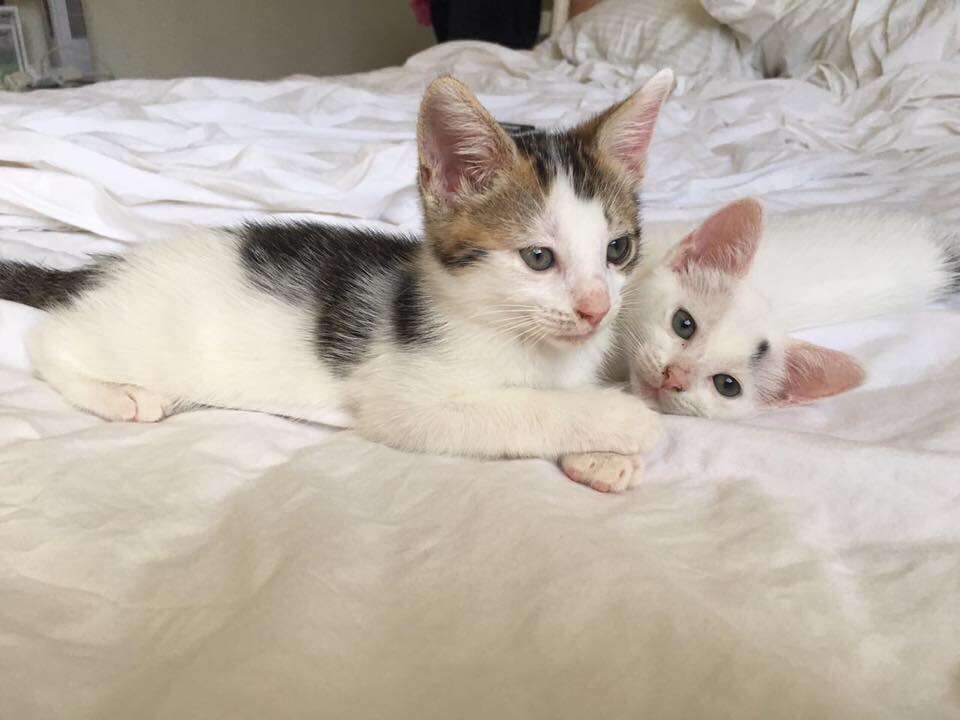 Bragg will get to see that progress. On top of continuing to spread the word about HelpAWS' mission and raising more money for the group, she's got plans to head back to St. Lucia this fall to participate in a veterinary clinic.
It's the perfect capstone, she says, to a wedding that was "100 percent who we are."
"Our love of dogs may have been the only thing missing from our big day," she says. "The fact that we connected with HelpAWS and helped this one particular dog made the entire experience even more unforgettable."