Lost Pit Bull Asks Cop For Help In The Sweetest Way
"This little girl knew she was in trouble and took it upon herself to jump into one of our parked patrol cars."
When this sweet-natured pit bull somehow ended up separated from her family and lost on the streets of Walnut Creek, California, she very cleverly decided not to merely wait around in hopes that someone would eventually notice her .
Instead, she took the initiative to get help — and found the perfect person to ask.
Rather than pick just anyone to lend her a hand, the wayward dog sought out help from a Walnut Creek Police officer. She clearly wasn't shy about requesting assistance, as the police department wrote online this week:
"Tonight at around 5:45 p.m., this little girl knew she was in trouble and took it upon herself to jump into one of our parked patrol cars and let Officer Akers know she was lost."
Akers knew just what to do next with his surprise pup passenger.
It was on the drive to a local animal shelter, where the dog's family would most likely be looking for her, that Akers discovered just what a dear pit bull she really was.
"She fell asleep in Officer Akers' lap and napped the entire ride to Contra Costa Animal Services," the police department wrote, adding: "She is well trained, can sit, stay and lay down."
But those aren't her only talents. The lost dog also knows how to say thanks.
"She repaid Officer Akers with a kiss on the cheek for his efforts in finding her family."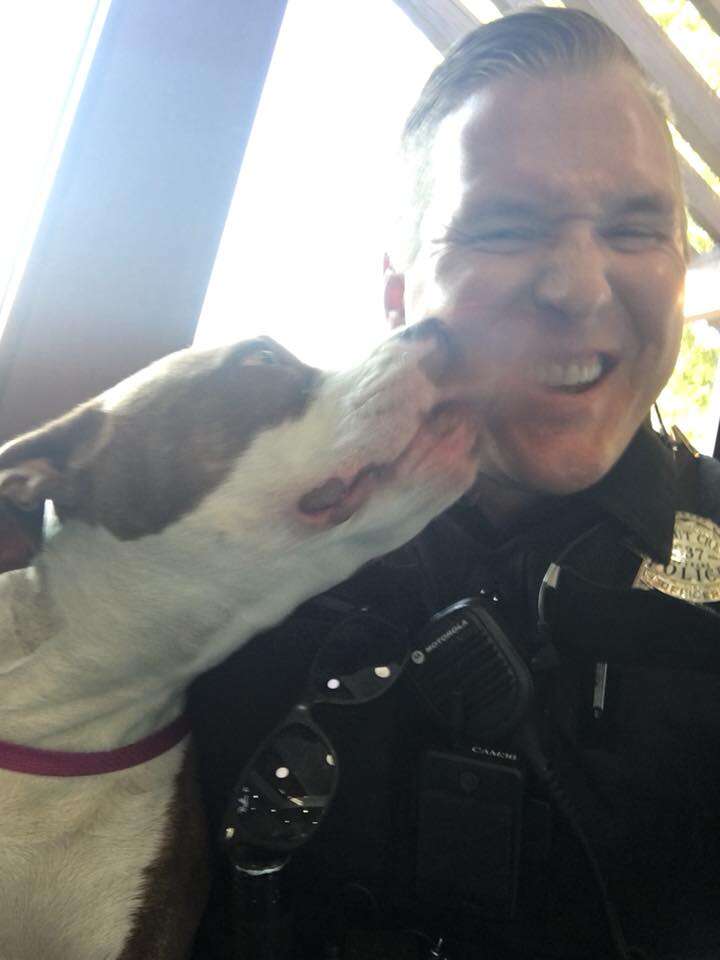 The dog is in good health, but unfortunately she wasn't microchipped — so her rescuers have turned to social media in hopes of tracking down her family. If no one claims her in the next week or so, she'll be made available for adoption into a new home by Contra Costa Animal Services.