Landlord Finds Out Guy Is Violating 'No Pets' Policy — And Has Best Reaction
"The FIRST thing she asked about was the dog — so I thought I was in trouble."
Nashi was bought from a pet store in Japan when he was 5 months old, but after three days his new mom decided he was too much work, and planned to take him to a shelter. She brought Nashi with her to an appointment with her stylist first, and explained to her stylist, a woman named Hiroko, what she planned to do.
In Japan, it's very rare that dogs are actually adopted from shelters, and many of them end up being put down. Hiroko couldn't let that happen to the sweet little puppy — so she decided to bring him home with her.
Hiroko brought Nashi home, but her husband, Robert Hamilton, was very against having a dog, and told her they wouldn't be keeping him and would instead find him a new home. He told his wife not to name him and not to get attached — but she found a way around both of those rules, and now, nine years later, Nashi is their forever dog, and he and Hamilton are the best of friends.
"'Nashi' means 'nothing' in Japanese," Hamilton told The Dodo. "So the sentences 'His name is Nashi' and 'He has no name' are identical."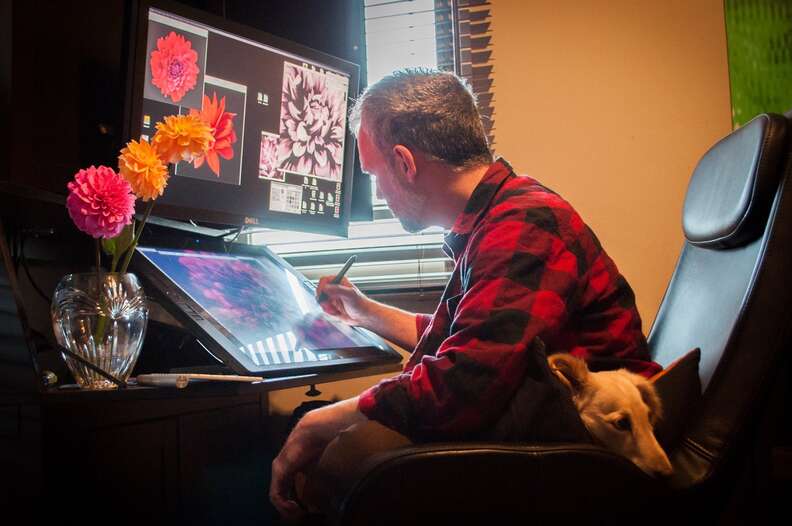 Hamilton now loves Nashi more than anything, and takes him with him everywhere he goes — even places he's not supposed to take him, like to watch sumo wrestling.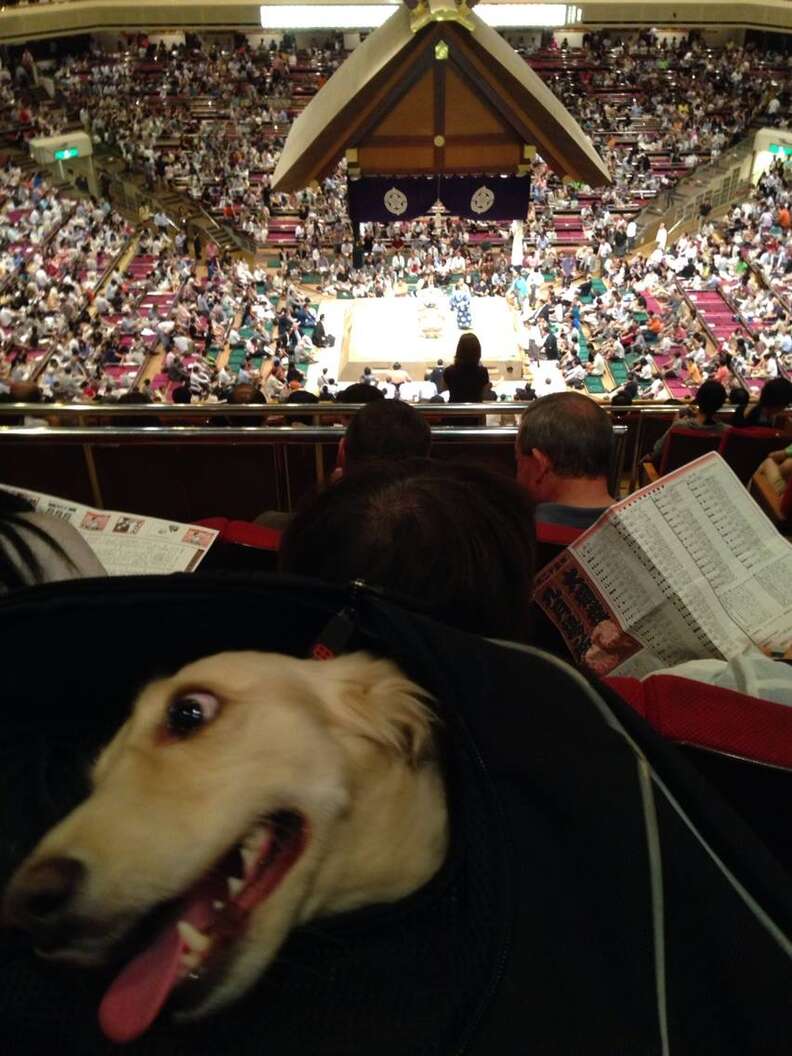 When Hamilton rented a studio to work on his kimono design business, the contract for his new workspace clearly stated that no pets were allowed. Nashi goes everywhere with him, though, so as he was moving his equipment and supplies into his new space, Nashi was there, barking out of excitement, and of course, the landlord heard him.
The next day, the landlord asked Hamilton if he had a dog — but the conversation did not go at all the way he expected it to.
"On my first day of actually working there, I left Nashi at home and knocked on the landlord's door to formally introduce myself and give her a gift," Hamilton said. "The FIRST thing she asked about was the dog — so I thought I was in trouble. But it turned out that she just really loves dogs, and she had been waiting to ask to meet him ever since she had heard the first bark. I ran back home to get Nashi so that she could come around and meet him."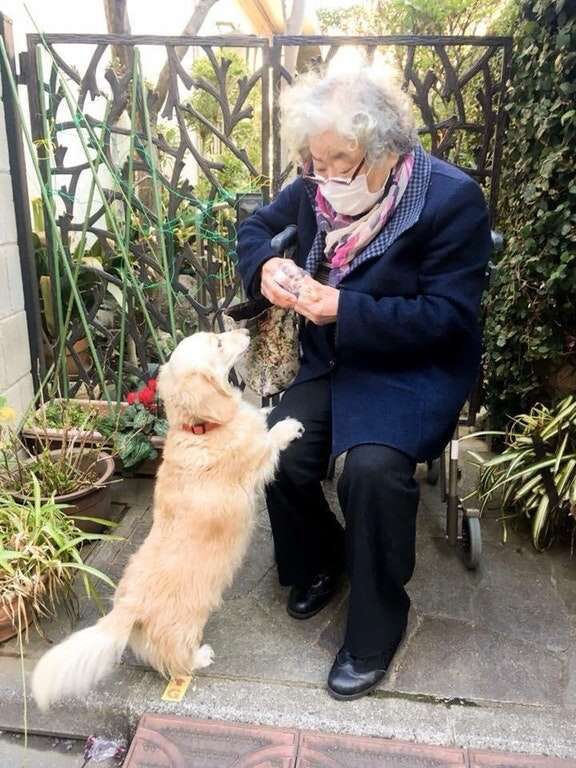 Much to Hamilton's surprise, his landlord wasn't mad at all, and instead desperately wanted to spend time with Nashi. She'd always had dogs in the past, but felt that she had become too old, and didn't want to leave a dog all alone in the world if she passed away before him. Nashi had always been a more reserved dog, and was often reluctant to meet strangers, but as soon as he met the landlord, he seemed to sense how much she wanted to be his friend.
"He sat quietly and accepted his fate," Hamilton said. "By the third time she visited, he knew who she was and was glad to see her. Nowadays she is one of his favorite people in the world."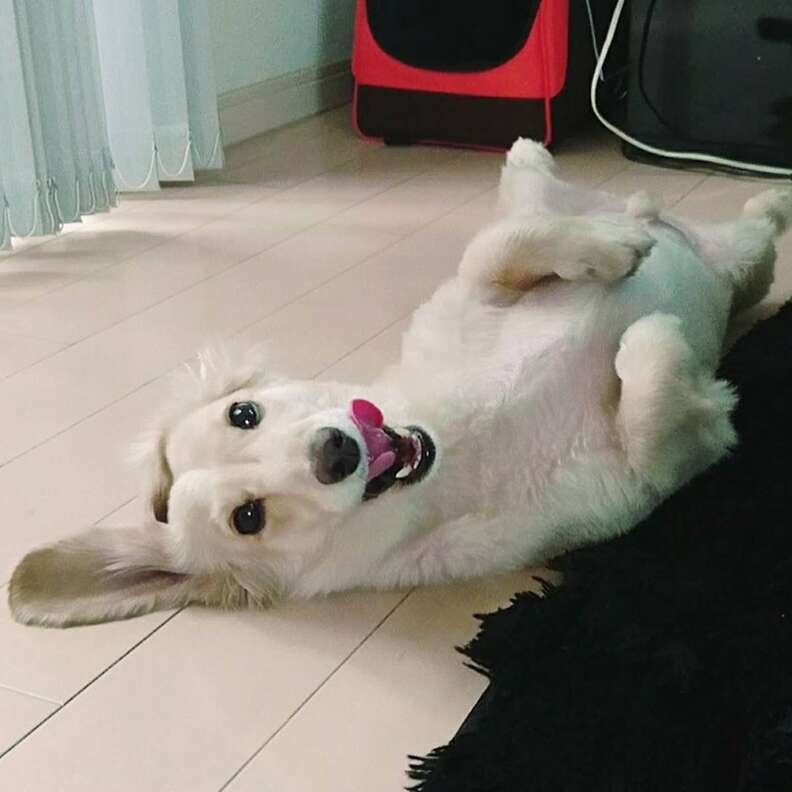 Now, Hamilton's landlord comes by to visit Nashi almost every day, and always has treats for him to enjoy. Nashi absolutely adores her and gets so excited whenever he sees her coming. They both brighten each other's days immensely, and have become the sweetest pair of very unlikely friends.
"I trained him in English, so he didn't recognize Japanese commands before, but he listens to and understands her now," Hamilton said. "She is the only person that he will accept a Japanese-language command from. He often tries to follow her home, too. They really seem to love each other."
Remember: If you're looking to adopt a dog, make sure your landlord is OK with animals first! Many animals end up in shelters each year because their owners get in trouble with their landlords and are forced to give them up.