Nothing was going to stop this canine officer from doing his duty.
Last Thursday, the Las Vegas Metropolitan Department (LVMPD) in Nevada responded to a call where alleged gunshots and screams for help were heard inside a home, ABC affiliate 13 Action News reported. The situation quickly escalated into a 12-hour barricade standoff that carried on into Friday, with negotiators attempting to lure out the suspect. When negotiation attempts failed, the LVMPD's SWAT team eventually decided to send their K9 officers to raid the apartment. They couldn't have anticipated what came next.
The suspect was armed with a machete and attacked K9 officer Nicky, the beloved partner of Sgt. Eric Kerns. The two have been working together for three years.
Despite being stabbed multiple times in the head, Nicky did not cry or whimper when he was attacked – instead, he continued to fight until the suspect had been taken down. Even better, police say the male suspect was bitten multiple times before being taken into custody.
After the attack, Nicky was taken to the hospital for surgery. Thankfully, he came out of the procedure successfully and is now on the road to recovery. He's expected to return to work as soon as he's back to 100 percent.
"He's a very good police dog, he's a very courageous dog," Kerns told 13 Action News. "He's been up against some tough suspects, some big intimidating people, and he doesn't care."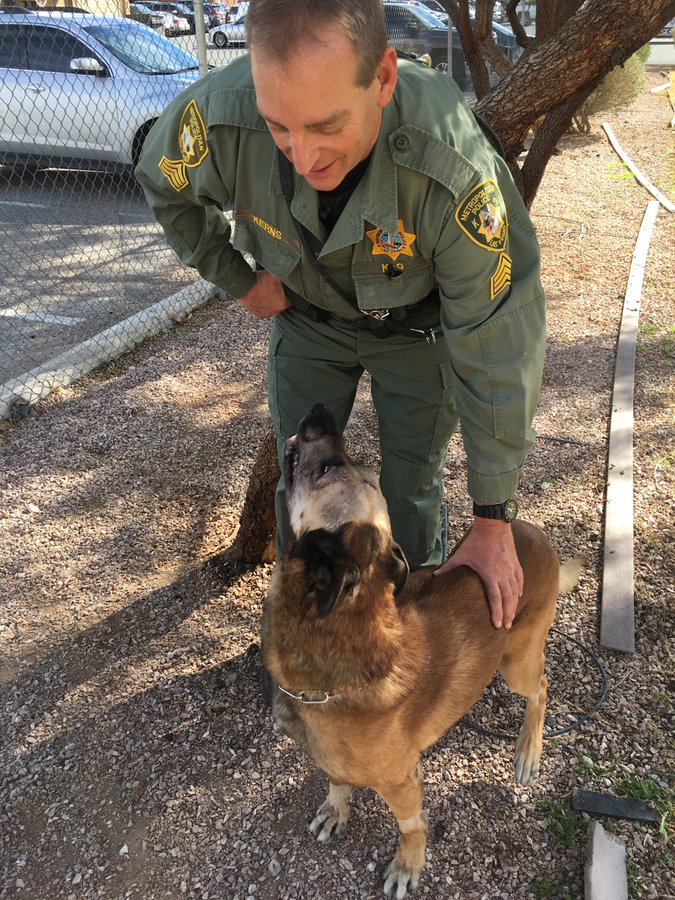 A recent tweet from a local reporter shows Nicky happily wagging his tail while relaxing in grass,
soaking in some rays along with his newfound fame. He's definitely got the right idea.
It's great to see Nicky handling the local celebrity life well after surviving such a dangerous attack. Talk about a real American hero.