Dogs Wait Patiently Outside Hospital For Homeless Owner To Get Better
Last Wednesday, a man named Luiz was rushed to the Santa Casa Hospital in Cianorte, Brazil, after suffering a stroke. The man may have been homeless, but he was not alone. His six best friends were there in his time of need, and refused to leave his side.
Hospital workers filmed the extent of Luiz's dogs' love, capturing the pups panting as they arrived at the hospital. They had chased their owner's ambulance for miles, and once they reached the building, they immediately made themselves at home by the entrance to the emergency room.
Volunteers from Amigos de Patas Cianorte, a nongovernmental organization focusing on animal welfare, were called to the scene to look after the distressed animals. The volunteers fed the dogs and snapped photos as the faithful pups continued to wait through the night for their owner's safe return.
Luiz and his dogs have been a familiar sight on the streets of Cianorte, where he has lived for over 20 years. Though there have been attempts by family members to find Luiz housing, he turned down the offers, preferring to share the streets with his close-knit dog family.
"He lives with his pals and treats them very well, he shares everything with them," Amigos de Patas Cianorte wrote in a Facebook post. "That night he had a stroke … his friends of paws accompanied him and they stayed [crying] from the outside. There they remain in vigil."
When morning came, Luiz was stable and released into the care of his brother, according to Amigos de Patas Cianorte. However, the reunion with his dogs was put on hold when he had to exit through a different door.
"The dogs were desperate," Simone Ziliane, a volunteer with Amigos de Patas Cianorte told Brazilian publication G1. "On Thursday morning, when Luiz was discharged and left with his brother through another door, the dogs remained at the hospital entrance. One of the volunteers from the NGO had to fetch Luiz at his brother's house and take him to where the dogs were for them to leave the front."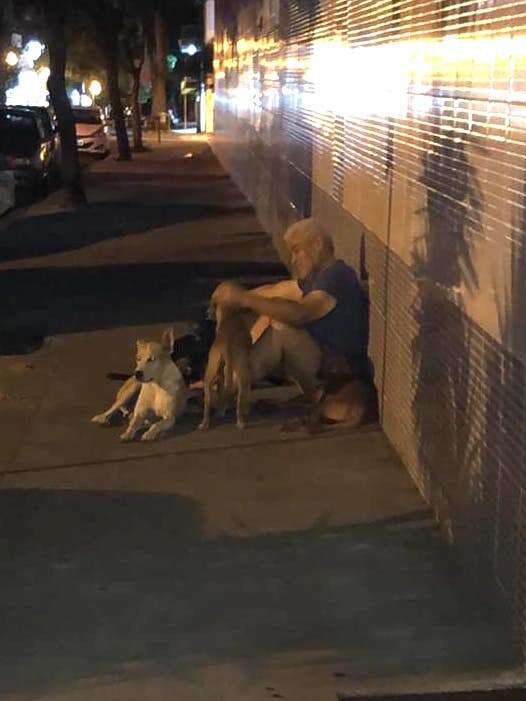 Luiz and his pups are finally together again, and his friends have proved beyond a shadow of a doubt that they have his back no matter what.