For a time, it seemed all she could do was cower and hide from the world she knew.
While no one knows what world that was – Cara was found by a rescue group in Ireland – it didn't seem like one worth living in.
PAWS Animal Rescue / Facebook
In a video, posted by PAWS Animal Rescue Ireland last July, the just-rescued dog appears so despondent, she can't even pry her face from the wall of her kennel.
Instead, she remains pressed into the corner, oblivious to efforts to get her attention.
A vet confirmed Cara was not, as is the case with some dogs who press their head persistently against a wall, suffering from a severe medical condition.
She was, in fact severely nervous.
"What had made her like this?" asks the caption accompanying the video.
Indeed, how does a dog so naturally inclined toward companionship become so profoundly introverted that she can't even turn to face the world?
It's a particularly ironic turn for a "sight hound" – a designation for a group of dogs, like greyhounds, who traditionally rely not on scent, but sight to navigate the world.
All Cara saw was darkness. Until the light became impossible to ignore.
Little by little, she took in her new world. Just a day later, PAWS posted another image:
PAWS Animal Rescue / Facebook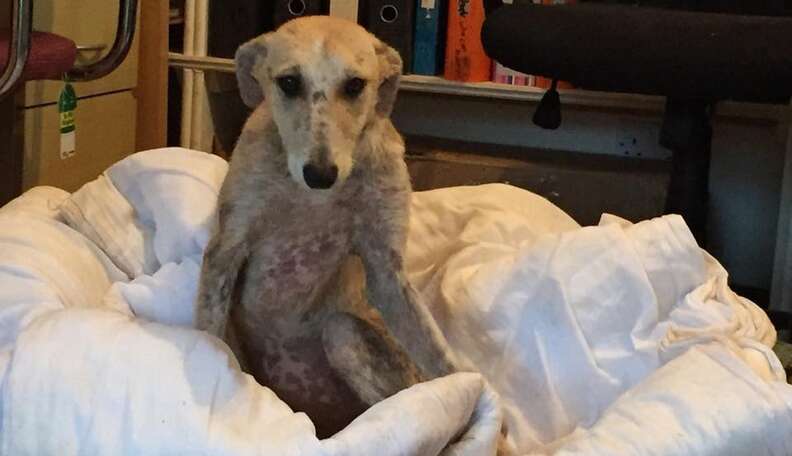 Not long after that, she found a real home with Michael and Theresa McGrath.
Then she found the couch. And her voice.
In the recently posted video, she's having a rather animated discussion with another sight hound on a couch – a discussion that starts with yips and barks before descending into mutual howling.
Cara may not sing exactly like an angel. But there's little doubt, angels had a hand in her beautiful new world. And it's world worth singing about.
Want to support an organization that helps hundreds of dogs in Ireland find their voice – and real homes? Consider making a donation to PAWS Animal Rescue Ireland.