She may be bracing for yet another winter in Iowa, chained and isolated from the world. But at least Bella will have a roof over her head.
Seasons change, but Bella's solitude has remained largely uninterrupted in the town of New Providence, Iowa. Photos taken by concerned neighbors show this unfortunate dog-for-all-seasons chained to a barn at the height of summer – and the depths of winter.
Her story, or at least what little we know about this mystery dog and her indifferent owners, was featured in The Dodo last week. At the time, New Providence sheriff Dave McDaniel said he had just visited the home and found food, water and shelter.
"However, the type of shelter is questionable."
Facebook
The question, of course, is if you feel that a strip of curved metal qualifies as a shelter.
Fortunately, Josh Colvin of the Animal Rescue League of Iowa (ARL) thought otherwise. Last week, his team made the two-hour drive to New Providence, hauling an insulated, custom-made doghouse.
Perhaps more surprising, considering the attempts to help Bella that were apparently rebuffed in the past, the owners accepted the offer.
Well, sort of.
They may have had a little help making their decision from a social media onslaught that erupted after the story was published. And the fact that the sheriff accompanied the group who set up the doghouse.
And, well, they were away for the holidays at the time, according to ARL. So we can also thank Thanksgiving for Bella's new home.
The dog was so happy, according to the group's post on Facebook, "she kept running in and out of her new house, licking Josh's hand each time as she ran out."
Bella also got a smattering of toys and treats. But, perhaps most importantly, she got something that is, sadly, scarcer than anything in her lonesome life. For a very short while, Bella was surrounded by people. And she was more than ready for her close-up.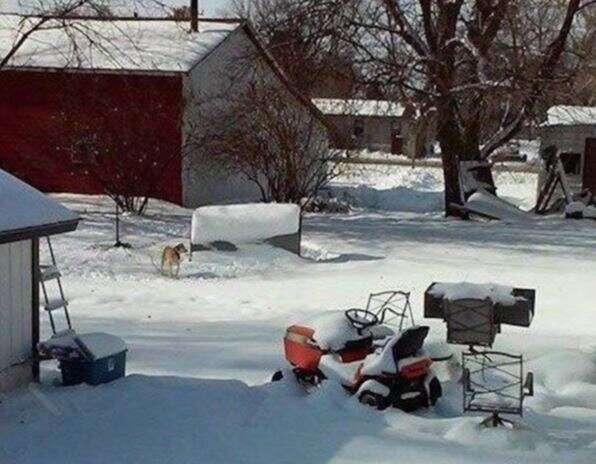 Facebook
Ever wonder how far a cry for help is carried from the back of a house in a tiny town in Iowa?
Look no further than the volunteers at HEART Hardin Eldora Animal Rescue Team, the group that first gave voice to Bella's plight.
The organization has been chronicling Bella's situation, while lobbying New Providence for an anti-tethering law, for years.
"We've gone to city council meetings," Amy Haas-Gray of HEART told The Dodo. "We've talked to the mayor. The sheriff. This has been going on for three years.
"They told us they were not going to do anything about Bella. they were not going to do an anti-chaining ordinance. And they didn't want us to come there again."
A trickle of change has arrived in the form of an insulated doghouse. But is it enough? Many are demanding so much more for the dog left out in the cold.
And others like her.
"Bella's not the only dog out there" Haas-Gray said. "There are lots of other ones."