"He does his best to please you. And if you know what to ask of him and how to reward him, he's right there by your side."
A bed, a bowl of water and a small bag of dog food. These were the things left with the pit bull whom Margie Morris found tied to a telephone pole last month.
Morris, director for Project Purr Animal Rescue, an organization that helps homeless cats in Mobile, Alabama, was used to finding abandoned cats and kittens on the doorstep of the shelter. But she was a little surprised to find a dog tied up in the parking lot behind the facility.
"My initial reaction was, 'Where was I going to keep the dog?'" Morris told The Dodo. "I felt bad for the dog being left behind. I believe the person who left him really couldn't keep him, but wanted him to get help. He was well-fed."
Unfortunately, Morris couldn't bring the dog (who'd later be named Ranger) into the cat shelter.
"We took some heat for not bringing the dog into our building, but we seriously have 90 to 100 free-range kitties and nowhere for a dog to go," Morris said.
Morris took photos of Ranger and posted them on social media to garner support for the abandoned dog. Then she arranged for Ranger to be transferred to the city shelter, and the workers there promised to look after him.
Project Purr's Facebook post went viral, and it wasn't long before several women, including an independent rescuer named Ginny Leclair, stepped up to help Ranger.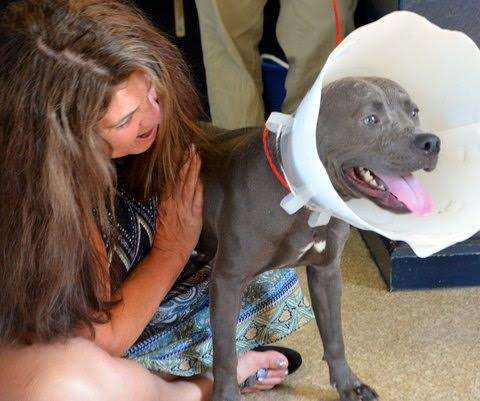 After pulling Ranger from the shelter, the women got him to the vet, where he was neutered, vaccinated and treated for ringworm. Then he was transferred to Leclair's home in Navarre, Florida.
Ranger, who is estimated to be about 2 years old, had been through a lot at this point. So it was understandable that he was a little bit on edge, although Leclaire worried about his aggressive behavior toward her other rescue dogs.
"I had my doubts at first about his disposition and temperament," Leclair told The Dodo. "But on the third day, I was like, 'Wait a minute. He needs a job. He needs to know who's in charge. This is not one that you can be all cutesy with and baby talk with and feed him and he'll be fine. Ranger needs to know, 'Hey, I belong to you. You're in charge of me. This is what we're going to do.'"
With discipline, attention and lots of love, Ranger quickly improved.
"He's doing so much better," Leclair said. "He can now walk past other dogs without there being a fight. He plays in the yard. He initiates play. I can take a toy from his mouth. I can take away his food dish. I can take away his water while he's drinking."
Ranger also loves people — not only Leclair herself, but her entire family. Initially, Leclair only planned on fostering Ranger until she found him a good home, but she recently decided to officially adopt him.
"His needs to belong," Leclair said. "He does his best to please you. And if you know what to ask of him and how to reward him, he's right there by your side."