The other day, the staff at Stray Rescue of St. Louis (SRSL) received a special delivery when a Good Samaritan dropped off not one but two adorable puppies. The babies were in rough shape — they'd lived outside all their lives without food or shelter, and their frail bodies showed it.
The tiny pair of siblings were quickly losing their strength, but one thing remained resolute: their undying love for each other.
The staff at SRSL didn't know much about Atlas and Lily's life before arriving at the shelter, but their underweight, flea-ridden bodies revealed a lot. After a thorough checkup, the veterinary team discovered that Atlas was severely anemic, requiring an emergency blood transfusion at another clinic.
"They are covered in fleas (that is how [Atlas] most likely became anemic), they are malnourished and their ears have been bitten away by flies," SRSL wrote on Facebook. "But when we look [into] his eyes, we can see for miles. There's so much depth, so much soul. His sister is very worried and knows something is wrong."
Just like they had when fending for themselves outside, Atlas and Lily clung to each other at SRSL. In their shared kennel, the two pups exchanged kisses and cuddled on top of each other.
Then, after receiving a generous amount of donations from their supporters, the team at SLSR transferred Atlas to a veterinary hospital for an emergency blood transfusion.
"[Not] only did Atlas survive the night, but his blood transfusion was a success and he's eating on his own!" SLSR wrote in a Facebook post. "We fell in love with him immediately, and we were so worried we would lose him."
The next day, Atlas returned to SLSR, where staff greeted him with giant hugs. To thank them for saving his life, Atlas kissed his caregivers on the nose.
He was undoubtedly happy to see the staff at SLSR, but there was someone he was even more excited to reunite with: his sister, Lily.
"Atlas is getting LOTS of kisses from Dr. Schulz, our amazing technician Sarah and our clinic intern Clara!" SLSR posted on Facebook. "This is one special puppy. His sister is excited to see him, too — they started cuddling immediately! These are the moments that reset and reenergize us."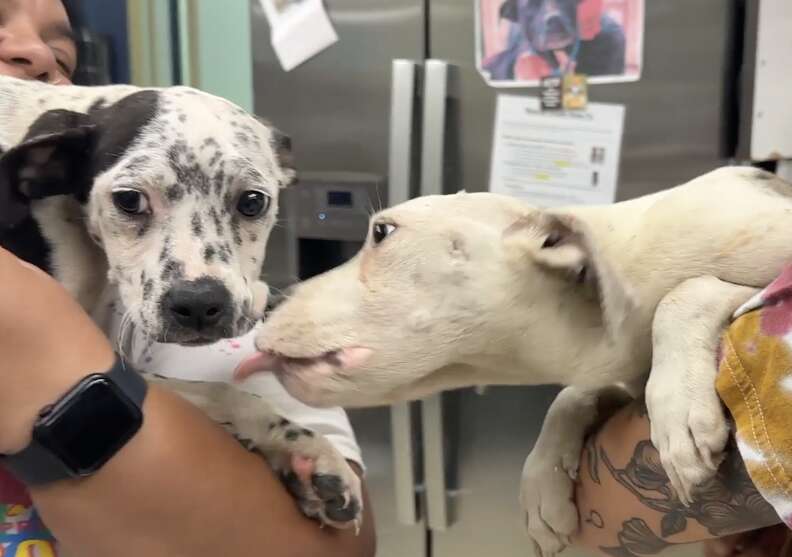 Atlas and Lily have been growing stronger each day, and they're finally ready to go to foster care. The sweet pups are still at SLSR waiting for the perfect match, but their team of caregivers knows that their happy ending is near.
"[Atlas] is wagging and wiggling like crazy today, his energy is increasing and he's feeling happy," SLSR wrote on Facebook. "They are ready to see what a home full of love and attention is like! We are so excited for the lucky person who takes them home!"
PLEASE SHARE THIS STORIE WITH YOUR FAMILY OR FRIENDS!!!