"I wanted him to have stability and a place he knew was his home … I just wanted him to be a dog."
Some might be put off by Beaux's unique look, but for Jamie Hulit, a single photo was all it took to convince her that the yellow Lab's life was worth saving.
"A friend of mine posted a picture of Beaux on Facebook saying he needed a foster or to be adopted — anything," Hulit told The Dodo. "That day I sent him a message saying, 'I would love to take that dog in and give him a home.'"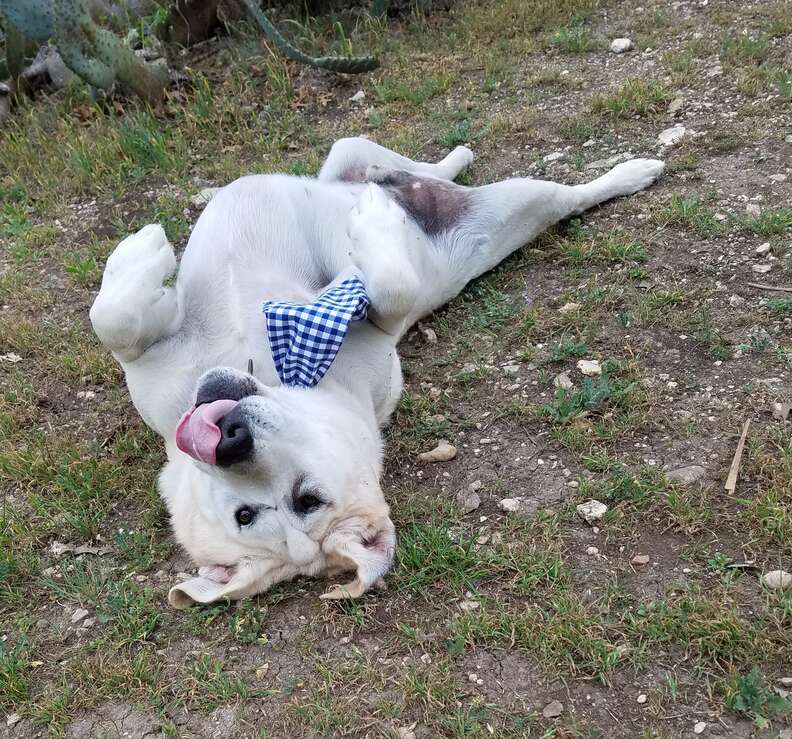 Beaux has stood out since before he was born. With little room to grow in his mom's womb due to his six brothers and sisters, he developed a sunken cranium and close-set eyes, according to Hulit.
"He just kind of got pushed out of the way, and formed how he formed," Hulit noted, "but it has nothing to do with his intelligence." An MRI confirmed that the head deformity did not affect his personality or his chances at living a long, healthy life, she said.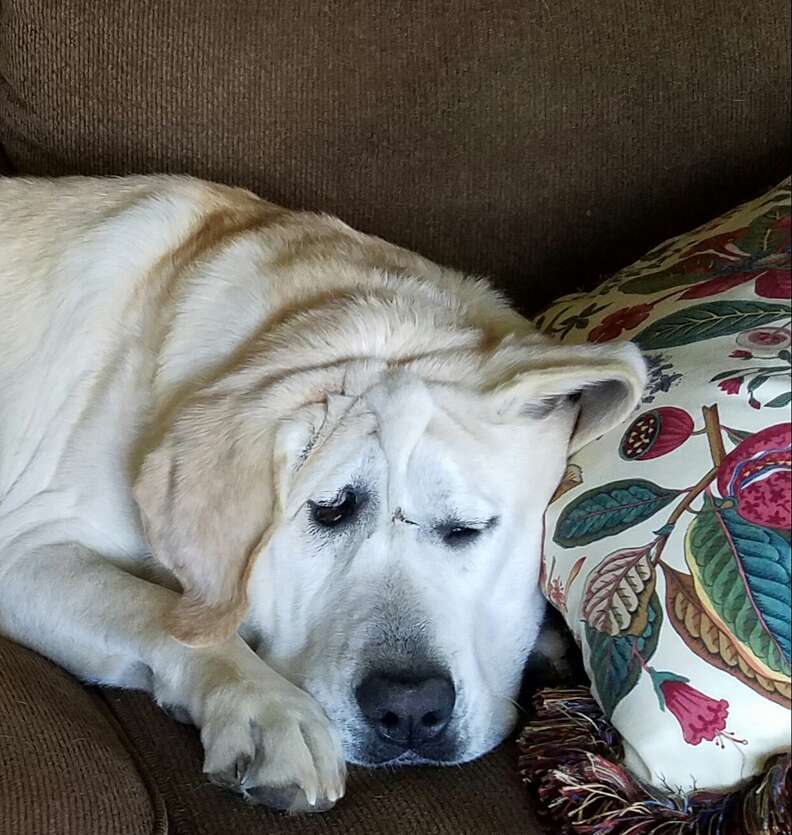 Beaux's early years were difficult nonetheless. "Because of his facial deformity, the people who were breeding couldn't sell him," Hulit said. "So they gave him away for free." A man who lived nearby in Austin, Texas, took in the odd little puppy, but when Beaux Tox, named Lucky at the time, didn't get along with the man's cats, he was banished to the backyard, according to Hulit.
For five years, the gentle dog remained outside, Hulit said, severely neglected by his owner and all alone — without even a dog bed for comfort.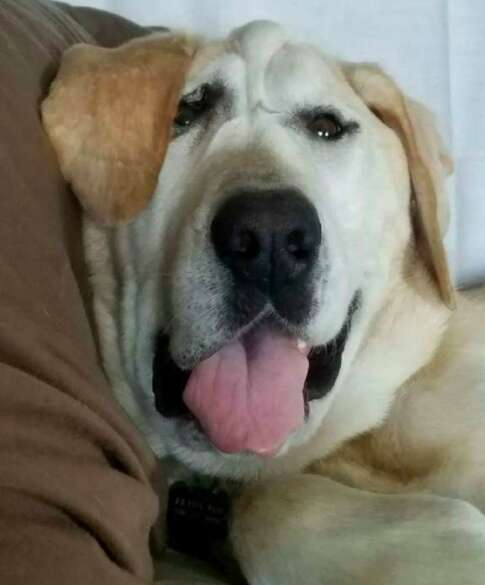 Local rescue groups attempted to intervene and find Beaux a better situation, but after spending his whole life in a small yard without any training or direction, Beaux was returned to the man's backyard again and again.
When Hulit went to meet Beaux at the man's home, she was unsure of what to expect.
Entering the backyard, she found a mere shell of a dog: the Lab's rib cage jutted out from beneath his blonde fur, which practically hung off his emaciated frame. Covered in fleas and infested with ear mites, Beaux's health issues didn't put off Hulit, who knew she'd be his last chance at a real home.
"At that point I didn't care how badly he might be ill," Hulit said. "I just didn't want him to go into the foster system again and be returned."
Hulit, who was in foster care herself for two years before being adopted at the age of 9, knew what it meant to be passed from family to family.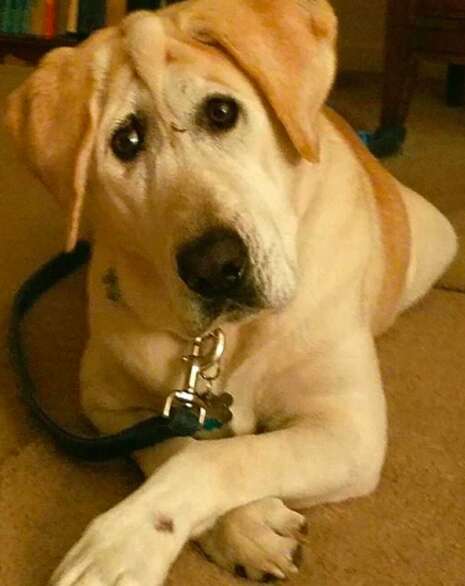 "I wanted him to have stability and a place he knew was his home," Hulit added. "That is why I adopted him outright from the owner. Beaux Tox had already bounced around and I just wanted him to be a dog."
When Hulit brought Beaux to the Hoegemeyer Animal Clinic in Kerrville, Texas, his chances of survival were even worse than she had imagined. Beaux tested positive for heartworms, a disease that over time permanently damages the organs, and he was far too weak to begin any type of treatment.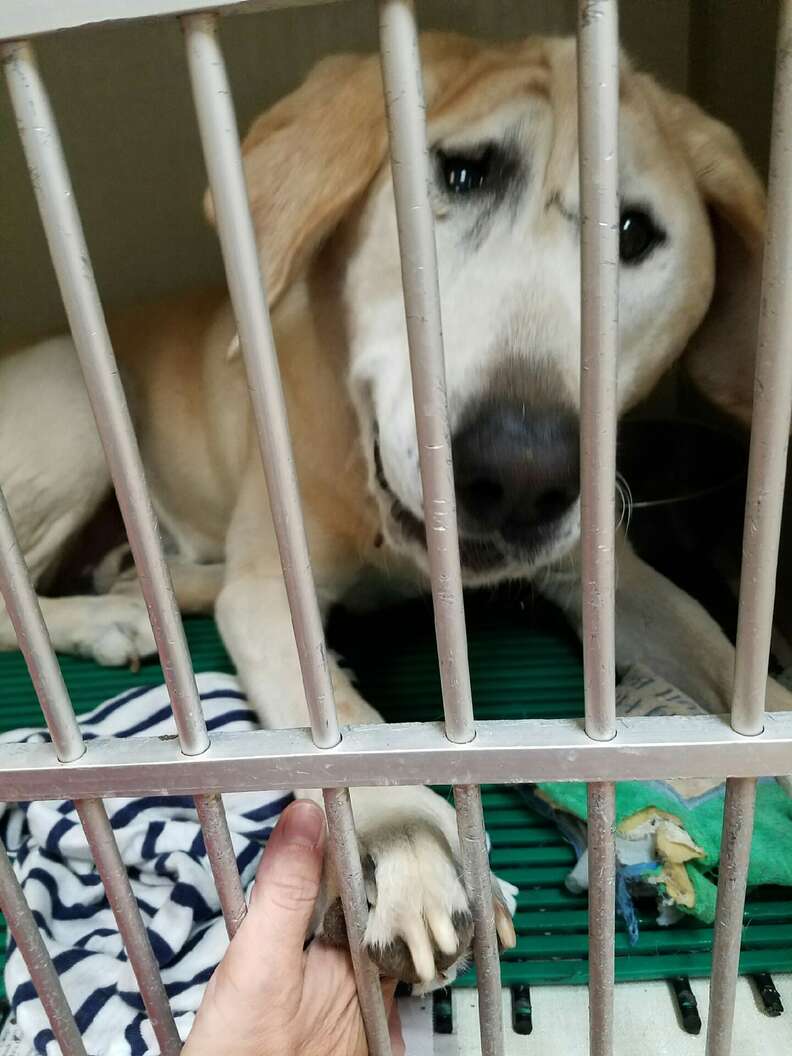 Dr. Jay Rydberg determined that Beaux only had a 50-50 chance of survival, but Hulit had already made a secret pledge to save the dog's life.
"I told the vet I didn't care," she said.
In and out of an oxygen tank for the first month of his recovery, Beaux's health was touch-and-go. Dr. Rydberg stayed with him around the clock, even calling Hulit into the office at 3 a.m. to say goodbye when things looked bleak.
But like his new mom, Beaux wouldn't give up.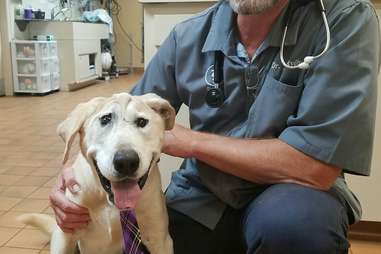 As weeks turned to months, he slowly put on weight, and was finally strong enough to go through heartworm treatment. Though he had lost hearing in his left ear due to the ear mite damage and still has trouble seeing out of his right eye, Beaux was finally given a clean bill of health.
Since arriving at Hulit's home, Beaux has transformed completely. "He was an outside dog, but you'd never know because he does not want to go outside," she said. "He'll go out if you do, but if you stay in, he'll stand right by the door and look through the window."
The now 6-year-old dog has also gained an older brother, Riley, a 13-year old golden retriever mix, who has taught him what it means to be an inside dog.
Now the two pups play and sleep together, as if they've always been best friends. "Riley and Beaux absolutely love each other," Hulit added. "They're perfect for each other even with the age difference and even though Beaux acts like a puppy — it helps Riley stay young."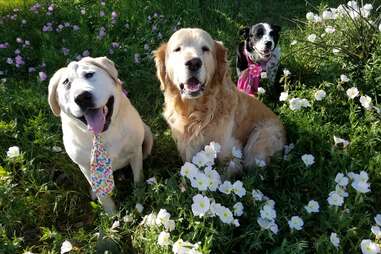 It's been a year since Beaux left the backyard for good, and in just a short time he has gone from being all alone to having the biggest animal family — which is exactly how he likes it. Beaux has been a foster brother to dogs and kittens through numerous local rescue organizations that Hulit works with, and has recently welcomed a new rescue dog sister named Scout.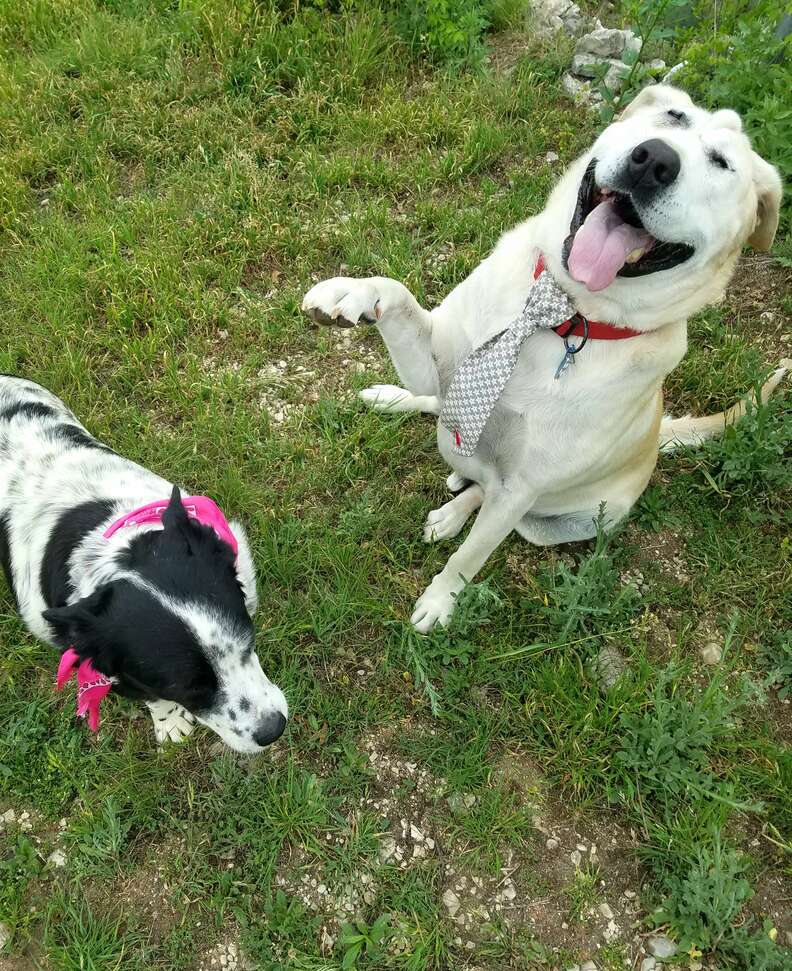 Beaux is fully embracing his new life, acting as hyper and joyful as a puppy. And his mom almost can't believe just how far he's come.